B2B 
E-Commerce 


on the  Blockchain for 

smart 

companies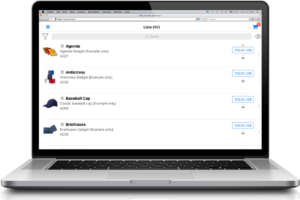 Increase sales worldwide with an international B2B E-commerce Portal available in 35 languages and 120 countries. Certify orders by notarizing documents on the commerce.network blockchain
Benefits
Digitizing sales with a B2B e-commerce web portal means making your company more competitive by drastically innovating your business processes
Eliminate order entry costs
with a B2B e-commerce web portal that eliminates back-office operations and costs
Extend sales time
with a B2B e-commerce web portal that allows customers to place orders 24 hours a day, 365 days a year
Increase reseller/customer sales
with a B2B e-commerce web portal that replicates your ERP's pricing policies
What problems does it solve?
A ready-to-use B2B e-commerce web portal. Created to increase direct and indirect sales, integrated with your ERP.
The first B2B E-commerce on the Blockchain
Our B2B e-commerce is not the usual B2C repurposed. It's a third generation product NATIVE FOR B2B with a notarization system of all the order processes on the blockchain of Commercio.network.
Certified exchanges between parties with eID electronic identity
Supply Chain Tracking via Blockchain
Absolute privacy with all transactions encrypted
B2B E-commerce integrable with ALL ERPs
Advanced electronic signature of orders with legal validity
Order certification with full legal validity
Customers
Our Company works with more than 200 clients worldwide. We have been working for more than 25 years to deliver innovative digital applications.
Register for a Pilot trial.
We offer you the opportunity to implement a pilot project and evaluate the B2B e-commerce web portal for 30 Days with your real data.